Welcome to our webstore!
Welcome to our webstore, where you can find some unique gifts from handcrafted home furnishings for your home, through to the iconic HOTTERdog coats for your pet. At Yak in the Attic, we like to make and create for the unique and comfortable home. Most of our soft furnishings have been produced using 100% cotton fabric or remnants, buying locally and supporting other small businesses along the way.
You will find animal and nature themes running through many of our products. We have a special fascination for dachshunds, and our last three sausage dogs have been acquired form rescue shelters. They come with their individual problems, but do come into a loving caring forever home when we have taken them on.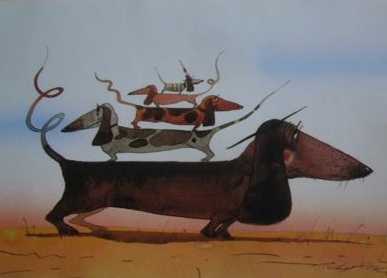 We also believe in healthy living and do our best to use eco-friendly packaging and to create items in 100% cotton fabric or remnants. You can find in our store, beautiful handmade Meditation bracelets by our Reiki Master and unique greeting cards to help find peace in your life. The dog jackets & cushion pads are long lasting, whilst other items are mostly bio-degradable or recyclable. We are not perfect by any means, but do what we are able to as a small individual business.